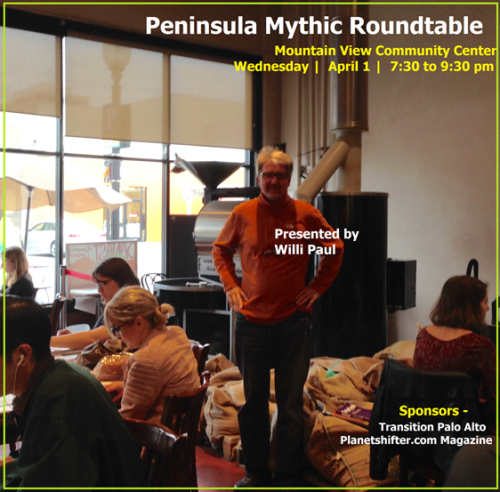 Peninsula Mythic Roundtable Invite from Mythologist / Entrepreneur Willi Paul, April 1, 7:30 - 9:30 PM, Mountain View Community Center, Free. Plus an Interview with Willi by Peter Ruddock, Transition Palo Alto
Bay area mythologist and publisher Willi Paul will lead the Peninsula Mythic Roundtable: "Tools and Inspiration for Creating New Myths". Sponsored by Transition Palo Alto & Planetshifter.com Magazine
Willi will read one his recently published "New Myths" and direct a live "Myth Lab" exercise that will generate a new myth with audience participation.
Writers, artists, mythologists, storytellers, teachers and activists are encouraged to attend the roundtable.
Mr. Paul recently held similar events in Santa Barbara and Davis to enthusiastic groups.
Join us for an evening of myth building. Help your neighbors create a new myth, perhaps one that will get across the principles and values of Transition to a wider audience. Get inspired to go home and create some stories of your own. Hope to see you on April 1.
Please download our event media (at end of this post):
+ Complete Press Release
+ Roundtable Poster
Contact:
Peter Ruddock, TPA
(650) 283-0978
* * * * * * *
Enjoy the Roundtable Interview with Willi by Peter
http://www.planetshifter.com/node/2252
Penninsula%20Roundtable%20PR.pdf